The company strategy could be changeable in the process of the enterprise operation. If you want to close the present China company for specific reasons, it usually means 6-8 months shall to be spend on the process of China company cancellation.
A China company cancellation goes through three key steps to close the business, i.e. dissolution, liquidation and deregistration.
All in all, the company cancellation in China should comply with the China Company Law, China Tax Laws, China labor Laws and other related regulations.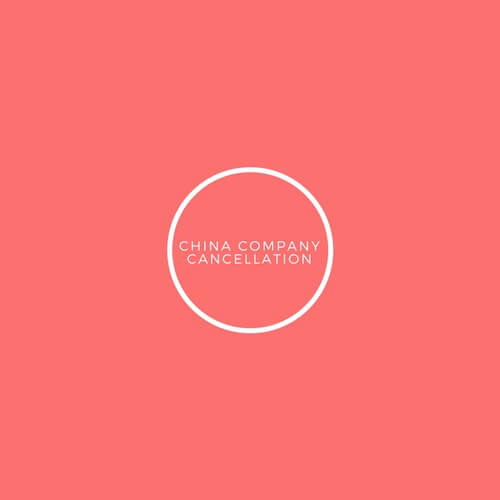 What if not Apply China Company Cancellation as Required?
The legal representative of the company revoked shall not engage in business activities within 3 years in China.
The responsible legal representative will be blacklisted and cannot buy air ticket and train ticket in China for the company that has not been revoked as required.
The overdue penalty should be paid if the legal representative of the company applies for a license three years later.
When Need to apply for China Company Dissolution?
All company dissolution should be comply with the requirements of laws and regulations of PRC's Company Law and PRC's Company Registration Administration Ordinance.
The company was declared bankrupt in accordance with the law.
The Term of Operation prescribed in the Articles of Association or other dissolution events prescribed by the Articles of Association shall appear.
Shareholder's Meeting or the sole shareholder of the one-person liability limited company decide to dissolve.
The business license shall be revoked in accordance with the law, and the company shall be ordered to close or be revoked.
The People's Court demands the close of business.
Dissolution is required for the merger or division of the company.
Other circumstances stipulated by laws and administrative regulations.
Why Need to Process Company Liquidation?
In order to terminate existing property and other legal relations, the company shall, in accordance with the legal procedures, clear, dispose and allocate the company's property and creditor's rights and debts. Apart from dissolution of the company due to merger or division, the dissolution of the other causes shall be through the liquidation procedure.
The scope of the liquidation of the company shall be the examination of the company's capital contribution, assets, claims and debts. The purpose of the liquidation is to eliminate the rights and obligations arising between the company and other social subjects, thus providing a reasonable basis for the termination of the company.
According to the Law of the PRC Company Law, the company should set up a liquidation group within 15 days from the date of start liquidation when the dissolution confirmed.
How to Proceed China Company Deregistration?
To Clear social security expenses and accounts in Social Security Bureau
To clear unpaid taxes and charges in Tax Bureau
Announcement on the major newspaper media to declare the cancellation
Cancellation of the record and the business license
Cancellation of corporate accounts
Deregistration of other industrial licenses and qualifications
Nullify the legal effect of the company seal
Other necessary deregistration procedures
Our Services Cover

Prepare Auditing Report
Establishment of Liquidating Group
Tax Clearance
Legitimate File Preparation for Deregistration