China's new Social Insurance Law, which took effect on July 1, 2011, established the first national, basic social insurance framework for employees across mainland China. The law requires that all employers in China enroll each employee in five insurance programs, plus one mandatory housing fund.

Five social insurance and one housing fund refers to the combination of several types of guaranteed treatment given to workers by employers, including endowment insurance, medical insurance, unemployment insurance, industrial injury insurance and birth insurance, and housing accumulation fund.

Without social security and accumulation fund, you are troubled by these things: the medical treatment is not reimbursed, unqualified for home purchase, pension life is not guaranteed. The total self-payment of antenatal care, unqualified for the points system for household registration, rejection about children's school admission, affected by the credit collection records.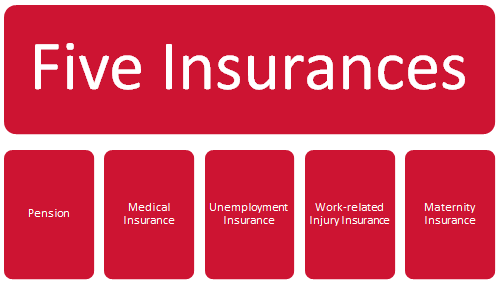 Five insurances consist of basic pension; basic medical insurance; work-related injury insurance; unemployment compensation; and maternity insurance.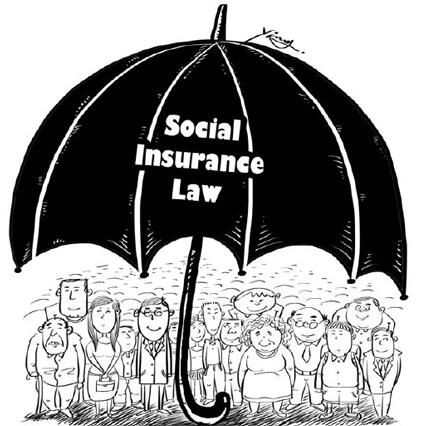 China's social security law was promulgated by the central government but its administration and specific details are governed by local authorities. It is paid by both employer and employee, and the levels of this payment to the social insurance agencies are connected directly to the employee's salary.

It can be complicated as there is not one steadfast rule for the country. Instead it is governed at a regional level, so depending where your company is based in China you will have differing responsibilities as an employer.

China social insurance not only needs to be set up, but also paid monthly, it may be easier to outsource this task to the local experts at Business China.


Significance of China Social Insurance
It is a system in which the state can obtain certain material help from the society through the legislative means to guarantee the laborer's loss of life source due to his age, illness, injury and unemployment. Because companies must expend the major part while individual just pay a small fraction and even no individual capture expends for some partial project when paying social insurance premium.
The pension insurance, for example, the individual payment of workers all credited to personal accounts, the company payment should also draw a part into the personal account. After retiring, the principal and interest of the personal account will be returned to the employee (or his/her family) on a monthly basis. In addition to this part of the "personal account pension", the employee's retirement benefits include monthly "basic pension" and annual salary adjustment with the society.
The benefits of other kinds of social insurance for employees are also obvious: employees who participate in unemployment insurance can receive unemployment insurance benefits for up to two years when they lose their livelihood. If a worker suffers serious injury or death, he or she may receive a medical grant or a pension or a relief fee. Industrial injury insurance can enable worker to obtain medical treatment fee, hospital expenses, disability compensation after an injury accident.
Benefits of Purchasing Housing Accumulation Fund

1. The lower threshold of the housing accumulation fund benefits more employees.

The notice concerning the development of the personal housing loan business of the housing provident fund stipulates: the employee has accumulated the housing provident fund for six months (including), and can apply for housing fund personal housing loan. Continuous payment of 6 months can allow a lot of employees who have been broken up due to work changes to use housing accumulation fund loans, especially for young people who have just joined the work.

2. Low interest rate to cut costs for estate buyer.

1 to 5 years loan interest rate of first suite, from 3.50% to 2.75%, from 3.75% to 3.25% in 5-30 years, this is good news for the general public. In 2015, the fall in the interest rate of the housing accumulation fund loans directly reduced the purchase cost of homebuyers, and the new policy of the accumulation fund rate was a great encouragement to the buyers to enter the market actively.

3. Housing accumulation fund is withdrawable.

During the repayment of the housing accumulation fund, if the deposit is normal, reputable and not overdue, you can apply for a loan repayment, or you can apply for extraction to repair or improve the housing condition.

4. Housing accumulation fund reduces the post-loan repayment pressure.

If the borrower (including the borrower spouse) has entrusted the housing fund center without changing the loan mode, according to the monthly payment from the account of a personal housing provident fund, the public accumulation fund will be returned to the housing provident fund loan in the current month, and the insufficient part will be repaid by the bank from its repayment account.

5. The down payment is as low as 20 percent.

According to a notice issued by the Foshan housing accumulation fund management center on January 14, from March 1, 2015, urban employees can apply for a housing accumulation fund loan as long as they have paid more than six months for the housing accumulation fund. Meanwhile, the maximum amount of personal loans will be increased to 400,000 yuan. In addition, no overdue payment within three years, or the minimum payment of the first period for borrowers with a period of less than 5 periods (including 5 periods), it can be as low as 20% of the total purchase price.

For foreign enterprises, China social insurance and housing accumulation fund are not only time consuming, but also means different local policies, different social security bases.

Business China is a service company which has been approved by the Guangzhou administration of industry and commerce to handle financial information consultation, financial information consultation and enterprise management consulting.






Service Objects
Remote branch company expects that the legal compliance participation minimizes the risk of enterprise employment.
Start-up company expects to meet the needs of local employees' social security and provident fund through local quality agency service company
Development company: the expansion period will be expected to devote more energy to the recruitment of employees and the management of retention.
Proposed listed company: traditional social security payment process is complicated, and expect that social security and accumulation fund can be paid more easily.
Document Checklist for China Social Insurance Application
Original copy of your company's business license, and a photocopy
Company chop
Corporate Bank Account Opening Permit
List of all the employees of your company
Employees' Personal ID or Passport Original
Service Procedure of Housing Accumulation Fund
To open an account for the housing provident fund;
To ratify the base of the housing accumulation fund;
Agent housing fund transfer procedures;
Agent housing accumulation fund seal procedure;
Procedures for the remittance of the housing accumulation fund;
Repayments of the housing provident fund
Agent housing accumulation fund withdrawal;
Related policy consultation on housing accumulation fund.