Wholly Foreign Owned Enterprise (abbreviation "WFOE" or" WOFE") has known as the most common and acceptable company structure for significant business industries in China.

China WFOE refers to the company set up in China with shares entirely owned by foreign investor(s).

Chinese Market is Enormous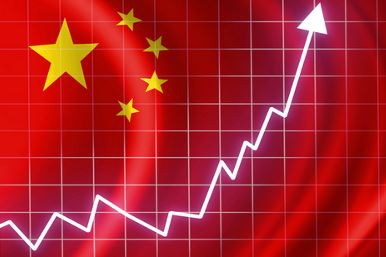 Foreign Direct Investment(FDI)in China has up to 108 billion USD since 2008, laying the foundation of China's economy to be the second largest one next to the United States.
China has renowned as the significant exporter of highly price-competitive goods as well as a vast importer of western cargo due to the fast rise of the Chinese middle class and rising consumption needs in recent decades.
Plus, with China's massive trained labor pool, low employment costs, favorable business atmosphere, robust legal framework and governmental support, business magnates, transnational corporations and individual investors all invest high attention to the Chinese market.
If China WFOE has a Season, It's Now
China WFOE is a limited liability company with independent management, accounting and the ability to bear legal responsibility independently. There are several incorporation segments should be taken into consideration when forming a China WFOE:
First, China WFOE's Registered Capital
China WFOE registration's minimum capital requirement in 99% business has been removed to aim at lowering the threshold for business startups and stimulating the foreign direct investment. But regional and industrial differences still exist.
Second, China WFOE's Business Scope
Business scope is entirely Chinese characteristics, not quite universal in some western countries. With a WFOE incorporated in China does not mean you can engage in any kinds of business activities, as is the case in HK and some Western countries. China foreign owned enterprise in China can only operate under the business scope approved by Chinese authorities.
Third, China WFOE's Registered Address
You could rent an office in China or freely choose our different packages of registered address to start your company right away. The registered address recommendation varies based on customers' business plan and enterprise types in China.
Fourth, China WFOE's Company Management Services
Business China provides an all-around business registration and maintenance services to ease our customers' business expanding in China and Hong Kong.
As the most common and acceptable limited liability company structure for significant business in China, Wholly Foreign Owned Enterprise, abbreviated China WFOE or China WOFE refers to the enterprise set up within Chinese territory with capital 100% owned by foreign investor(s).

China WFOE is adopted and welcomed in significant industries by foreign investors. If the WFOE trades, wholesales, retails or franchises, we call it a Trading WFOE; if it manufactures, a manufacturing WFOE. If the WFOE implements are consulting and advisory business, it is called a Consulting WFOE. If it involves food and beverage, an F&B WFOE.

China WFOE's Advantages are Easy to See:
Independent management without Chinese participation. The enterprise shall carry out the operation and management activities in accordance with the approved bylaws without interference;
Carry out worldwide strategies of your parent company or individual shareholders independently;
Invoicing to clients under the name of your China Wholly Foreign Owned Enterprise and collect payment in RMB while carrying out business, which is inexecutable under a China RO (Representative Office in China);
Issue Certificate of Origin (CO) in international trade;
Remit China company profit to parent company outside of China legally and promptly;
Protect intellectual know-how and technology;
Full control of human resources;
Have greater efficiency in operations, management, and future development;
Able to apply for working visa (residence permit) for its own legal personality and employees;
Have no requirement for a parent company to set up more than 2 years while for Rep Office's need at least 2 years;
Self-financing: The operating income shall be wholly owned and controlled by the investors after taxation following the relevant tax regulations of China. If the enterprise terminates, it shall make an announcement in time and carry out liquidation according to the legal procedures;
In addition to land, the investment of enterprises is 100 percent private to foreign investors and there is no equity of Chinese investor. An enterprise can be a partnership by foreign investors or individual proprietorship.
Business China Functions as Your Key to China
Quick & Hassle-Free China WFOE Formation
No Registered Capital & No Real Office Required & Online Registration
Online China WOFE Registration in 3 Simple Steps
Fluent English Speaker & 7x24 apply for setting up a WFOE in China
No Hidden Cost & Competitive Rates to Easy your Wholly Owned Subsidiary Expansion into China
3000's Of Happy Clients & 10 Years+ Experience
Setting Up a Company in China with Business China Means Anywhere Anytime Access
Set Up China Wholly Foreign Owned Enterprise (WFOE/ WOFE)
Set Up Joint Venture (JV) in China
Set Up Representative Office (Rep Office) in China
Formation of China Partnership Company
China Liability Limited Company (LLC)
Corporation in Guangzhou, Shenzhen, Foshan, Shanghai.

Opening Company & Starting Your Corporation with Business China – More than Registration
Business China helps you to start China WFOE with Hassle-Free package covers China business bank account opening, outsourced accounting & bookkeeping, post-corporate management services, China VAT refund and free company secretary services…




China WFOE Formation Process could be concluded as Four Steps as listed below.
We formulate the required document for you simultaneously to make it easier to understand China WOFE Registration.
Step A. Name pre-registration
Apply for name pre-registration, the documents & certificates to be submitted:
Name Pre-registration Form of China WOFE; (Business China provide)
The legal identification certificate of Chinese and foreign investors;
The project proposal and its approval documents (wholly foreign-owned enterprises shall submit the application report and the written reply of local county government); (Business China provide)
A power of attorney; (Business China provide)
Approval documents of relevant departments shall be submitted if the business project is under the state limitation on the utilization of foreign capital or for special examination and approval of the industry; (Business China provide)
Other documents and certificates as required according to relevant laws, regulations, rules & policies.
Step B. Business licenses application
Registration Application of Foreign-invested Enterprises signed by the Legal Representative;
Contracts, Articles of Association & approval documents and certificates of the approval authorities; (Business China provide)
The Identification Certificate of the Investor (the Chinese side shall affix the seal of the issuing authority);
The Credit Certificate of the Investor (if applicable);
The Appointment Statement of Legal Representative, Director(s), Manager(s) and Supervisor(s); (Business China provide)
The identity card or passport of Legal Representative, Director(s), Manager(s) and Supervisor(s);
Office lease contracts; we will provide these if using our registered address; (Business China provide)
Name Registration Application Form and Name Pre-registrational Notice (original); (Business China provide)
A power of attorney; (Business China provide)
Other documents and certificates as required according to relevant laws, regulations, rules & policies.
Step C. Documents required for other industries
Trade Industry: Import and Export Certificate
Food Industry (health food): Food Business License
Pharmaceutical Industry:License for Pharmaceutical Trading
Cosmetics Industry:Cosmetic Hygiene License/Cosmetics Business License
Medical device Industry: Medical Device Operating Permit/Medical Device Production License/Class I, Class II, Class III Medical Device Registration, Filing, etc
Step D. Apply for enterprise seal and seal record to protect the legitimate rights of WFOE.
Any Documents Need to be Certified?
When overseas company/individual sets up a foreign investment company in mainland China, the Chinese government will require the overseas company/individuals to apply for the notary of their identification certificate because the Chinese government bureau cannot check the identification details of offshore companies/individuals.
The notarized certification process should complete in the home country of the parent company or individual passport issuing state (if the passport issuing country does not have the Chinese Embassy or Consulate, one can go to the nearby country).
It requires that the Foreign Ministry of the host country and the Chinese Embassy
must approve foreign investors and overseas companies' Chinese investment.
Overseas investors need to attest and notarize the following documents:
Certificate of Company Incorporation
Company Registration Certificate
List of Directors and Shareholders
Articles of Association of the Company
Certificate of Legal Representative of the Investors
Records of the board of directors signed by the legal representative
Other company documents
*Overseas individuals generally require notarized passport file in duplicate
Note:
*Hong Kong companies to establish foreign companies in China are required to apply for the notarization of Chinese Notary authorized by the Ministry of Justice (Business China provide).
*Foreign companies/individuals require the notarization of the Chinese Embassy, which must be completed by themselves.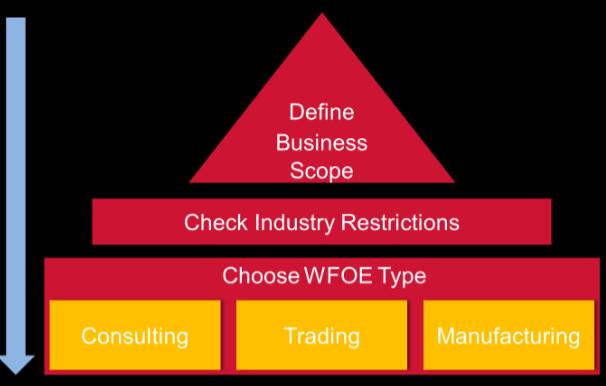 To start your China enterprise with a professional team in China.
Our service process: Customize Service Package-----Start WFOE Registration Services---Courier Company File to You by International Express.
We create an easy route for business incorporation in China.
We also offer post-incorporation Services.
We understand just how valuable your time is.
At Business China, we are committed to returning your email or phone call within 24 hours GUARANTEED.
A foreign investor is not required to come to China physically to start the incorporation process.
Setting up as an Individual
A personal bank statement letter, only stating no lousy record (in some cases, no need to provide)
Choose a China name and English name for your China WFOE
Choose the location for your company in China
Setting up as a Hong Kong Company
Notarized copy of Certificate of Incorporation /Business Registration Certificate/NC1 (or AR1)
Passport copy of legal representative and supervisor of China WFOE
Hong Kong Company Business Account Bank Statement (in some cases, no need to provide)
We can Establish and Notarize the Hong Kong Company for you in 7-8 working days


Setting up as a Foreign Company
Certificate of Incorporation /Business Registration Certificate
Passport copy of legal representative and supervisor of China WFOE
Foreign Company Business Account Bank Statement (in some cases, no need to provide)
All Documents need to be attested and notarized by the China Embassy