A Wholly Foreign Owned Enterprise, commonly abbreviated as WFOE, signifies a corporate entity where complete ownership lies in the hands of foreign investors. WFOEs have emerged as the prevailing choice of organizational structure for international enterprises venturing into China. They empower foreign companies to establish their foothold in the country independently, without the obligation of partnering with a local entity. Functioning as limited liability companies, WFOEs are exclusively owned by foreign investors—be it individuals or corporations. This ownership entitles them to partake in an extensive array of business undertakings, generate profits, issue invoices to clients, and recruit both local and international staff within China. WFOEs are bound by the same legal framework and regulations as domestic companies in China, mandating their registration with pertinent authorities and the acquisition of requisite licenses and permits. The process of setting up a WFOE typically spans a duration of 2 to 3 months. This endeavor encompasses the meticulous preparation of incorporation documents, the establishment of Chinese corporate bank accounts, and the appointment of a designated legal representative.

When a WFOE embarks on trading, wholesaling, retailing, or franchising activities, it is commonly denoted as a Trading WFOE. Conversely, when its core operational focus lies in manufacturing, it assumes the title of a Manufacturing WFOE. In situations where the primary specialization pertains to rendering consulting and advisory services, it is termed a Consulting WFOE. Correspondingly, when the WFOE is immersed in the domain of food and beverage, it takes on the identity of a Food & Beverage WFOE.

Establishing a Wholly Foreign Owned Enterprise (WFOE) in China provides foreign investors with numerous advantages and opportunities for conducting business in the Chinese market. By establishing a WFOE in China, foreign investors can unlock a host of benefits that empower them with greater control, market access, and profitability. In this section, we will delve into the advantages of a China WFOE, shedding light on why it has become a strategic and lucrative option for businesses across diverse industries.


100% Control One of the primary advantages of a China WFOE is the level of autonomy and control it offers to foreign investors. As the sole owner, the investor has the authority to make independent business decisions, without the need for Chinese participation. This enables greater operational flexibility and the ability to align the business with global strategies and objectives.
Profit Repatriation
A significant benefit of a China WFOE is the ability to remit all profits generated by the company to the parent company outside of China. This profit repatriation feature allows for seamless capital management and facilitates the smooth flow of funds across international borders without unnecessary restrictions or complications.

By having the freedom to repatriate profits, you can optimize your global financial strategies, reinvest in other markets, fund research and development initiatives, or distribute earnings to shareholders. This flexibility and ease of profit repatriation enhance the financial efficiency and competitiveness of your business, making a WFOE an attractive choice for foreign investors seeking to maximize their return on investment in the Chinese market.


Intellectual Property Protection
China has made significant strides in strengthening intellectual property (IP) protection laws and regulations. By establishing a WFOE, foreign investors gain better control and safeguarding of their valuable intellectual know-how, technology, and trademarks within the Chinese market. This ensures the protection of proprietary assets and reduces the risk of unauthorized use or infringement.


Market Expansion and Scalability
Setting up a WFOE in China provides foreign investors with direct access to one of the world's largest consumer markets. With a WFOE, businesses can expand their operations and reach a broader customer base. This scalability allows for greater market penetration, increased sales opportunities, and the ability to adapt to changing market conditions.


Independent Procurement and Sales
A WFOE grants foreign investors the freedom to engage in procurement and sales activities independently. Unlike other business structures such as Representative Offices (ROs), WFOEs can negotiate contracts, issue invoices, and conduct sales transactions directly with clients. This independence enhances business efficiency, streamlines operations, and strengthens relationships with suppliers and customers.


Greater Business Credibility
Operating as a WFOE enhances a company's credibility and reputation in the Chinese market. It demonstrates a long-term commitment to the local market and signifies a deeper level of engagement. Chinese partners, suppliers, and customers often perceive WFOEs as more reliable and trustworthy business entities, which can contribute to increased opportunities for collaboration and growth.


Access to Government Incentives and Support
China offers a range of incentives, subsidies, and support policies for foreign-invested enterprises. By establishing a WFOE, companies can avail themselves of these government programs, which may include tax benefits, grants, preferential policies for certain industries, and access to government funding for research and development (R&D) initiatives. These incentives can significantly reduce business costs and improve overall competitiveness.


Recruitment and Human Resources Management
As a WFOE, foreign investors have full control over human resources management. This allows for the recruitment of skilled local and international talent, tailored to the specific needs of the business. The ability to build a diverse and capable workforce contributes to organizational success and facilitates the implementation of efficient business strategies.

Establishing a WFOE in China offers foreign investors a range of advantages, empowering them to navigate the Chinese market with autonomy, control, and strategic flexibility. From profit repatriation and intellectual property protection to market expansion opportunities and access to government incentives, the benefits of a China WFOE are substantial. By capitalizing on these advantages, businesses can position themselves for long-term success and growth in one of the world's most dynamic economies.


When it comes to establishing a WFOE in China, Business China stands as the ultimate choice, offering an array of benefits that extend beyond expectations:
Swift and Effortless China WFOE Formation and Registration
No Requirement for Registered Capital, Physical Office, or In-Person Registration
Seamless Online WFOE Setup in Three Simple Steps
Round-the-Clock Support from Fluent English-Speaking Consultants, Guiding Your China WFOE Application
Transparent Pricing and Competitive Rates, Streamlining Your Wholly Owned Subsidiary Expansion into China
Over a Decade of Experience and a Plethora of Satisfied Clients

Embarking on the journey of company registration in China with Business China ensures unparalleled access to Chinese markets, anytime and anywhere.


Our Expertise Extends Beyond WFOE Formation:
Not limited to WFOE formation and setup, Business China extends a comprehensive suite of professional services that cater to diverse business needs:


Facilitation of China Business Bank Account Opening
Outsourced Accounting and Bookkeeping Solutions
Post-Corporate Management Services
China VAT Refund Assistance
Complimentary Company Secretary Services

Choosing Business China isn't just about establishing a company – it's about accessing a realm of possibilities and navigating the intricate landscape of China's business landscape with confidence.


Thanks to our in-depth knowledge about WFOE formation and registration and years of experience in the industry, the China WFOE formation and registration process can be completed in four easy steps given below;
Step One. Name pre-registration
Apply for name pre-registration, the documents & certificates to be submitted:
Name Pre-registration Form of China WOFE; (Business China provide)
The legal identification certificate of Chinese and foreign investors;
The project proposal and its approval documents (wholly foreign-owned enterprises shall submit the application report and the written reply of local county government); (Business China provide)
A power of attorney; (Business China provide)
Approval documents of relevant departments shall be submitted if the business project is under the state limitation on the utilization of foreign capital or for special examination and approval of the industry; (Business China provide)
Other documents and certificates as required according to relevant laws, regulations, rules & policies.
Step Two. Business licenses application

Registration Application of Foreign-invested Enterprises signed by the Legal Representative;
Contracts, Articles of Association & approval documents and certificates of the approval authorities; (Business China provide)
The Identification Certificate of the Investor (the Chinese side shall affix the seal of the issuing authority);
The Credit Certificate of the Investor (if applicable);
The Appointment Statement of Legal Representative, Director(s), Manager(s) and Supervisor(s); (Business China provide)
The identity card or passport of Legal Representative, Director(s), Manager(s) and Supervisor(s);
Office lease contracts; we will provide these if using our registered address; (Business China provide)
Name Registration Application Form and Name Pre-registrational Notice (original); (Business China provide)
A power of attorney; (Business China provide)
Other documents and certificates as required according to relevant laws, regulations, rules & policies.
Step Three. Documents required for other industries
Trade Industry: Import and Export Certificate
Food Industry (health food): Food Business License
Pharmaceutical Industry:License for Pharmaceutical Trading
Cosmetics Industry:Cosmetic Hygiene License/Cosmetics Business License
Medical device Industry: Medical Device Operating Permit/Medical Device Production License/Class I, Class II, Class III Medical Device Registration, Filing, etc
Step Four. Apply for enterprise seal and seal record to protect the legitimate rights of WFOE.
Any Documents Need to be Certified?
When overseas company/individual sets up a foreign investment company in mainland China, the Chinese government will require the overseas company/individuals to apply for the notary of their identification certificate because the Chinese government bureau cannot check the identification details of offshore companies/individuals.
The notarized certification process should complete in the home country of the parent company or individual passport issuing state (if the passport issuing country does not have the Chinese Embassy or Consulate, one can go to the nearby country).
It requires that the Foreign Ministry of the host country and the Chinese Embassy
must approve foreign investors and overseas companies' Chinese investment.
Overseas investors need to attest and notarize the following documents:
Certificate of Company Incorporation
Company Registration Certificate
List of Directors and Shareholders
Articles of Association of the Company
Certificate of Legal Representative of the Investors
Records of the board of directors signed by the legal representative
Other company documents
*Overseas individuals generally require notarized passport file in duplicate
Note:
*Hong Kong companies to establish foreign companies in China are required to apply for the notarization of Chinese Notary authorized by the Ministry of Justice ((will be provided by Business China).
*Foreign companies/individuals require the notarization of the Chinese Embassy, which must be completed by themselves.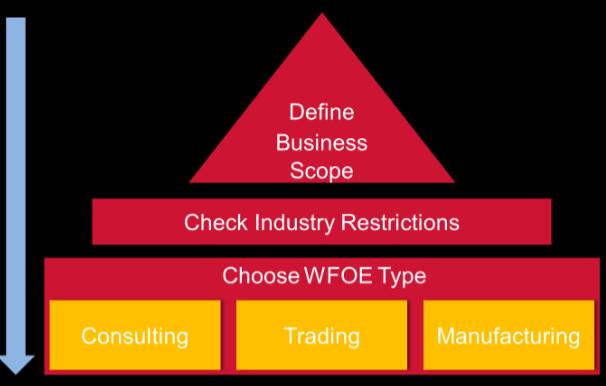 To start your China enterprise with a professional team in China.
Our service process: Customize Service Package-----Start WFOE Registration Services---Courier Company File to You by International Express.
We create an easy route for business incorporation in China.
We also offer post-incorporation Services.
We understand just how valuable your time is.
At Business China, we are committed to returning your email or phone call within 24 hours GUARANTEED.
A foreign investor is not required to come to China physically to start the incorporation process.
Setting up as an Individual
A personal bank statement letter, only stating no lousy record (in some cases, no need to provide)
Choose a China name and English name for your China WFOE
Choose the location for your company in China
Setting up as a Hong Kong Company
Notarized copy of Certificate of Incorporation /Business Registration Certificate/NC1 (or AR1)
Passport copy of legal representative and supervisor of China WFOE
Hong Kong Company Business Account Bank Statement (in some cases, no need to provide)
We can Establish and Notarize the Hong Kong Company for you in 7-8 working days


Setting up as a Foreign Company
Certificate of Incorporation /Business Registration Certificate
Passport copy of legal representative and supervisor of China WFOE
Foreign Company Business Account Bank Statement (in some cases, no need to provide)
All Documents need to be attested and notarized by the China Embassy