WFOE, also known as Wholly Foreign Owned Enterprise, refers to a company set up in China where foreign investors wholly own shares of the company and is a popular, widely acceptable structure for companies across industries in China.

If the WFOE trades, wholesales, retails, or franchises, we call it a Trading WFOE; if it manufactures, a manufacturing WFOE. If the WFOE is in consulting and advisory business, it is a Consulting WFOE; if it involves food and beverage, an Food &Beverage WFOE.

Chinese Market is Enormous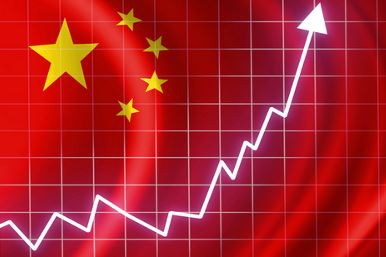 Chinese market is huge, and economy is perhaps the 2nd largest after the US much owed to the big chunk of foreign direct investments of nearly 108 billion USD since 2008. So, it definitely makes sense to invest in China if you already have a strong foothold in the US. It is the next big market globally.
Additionally, the Chinese market is becoming a top choice among investors for many other reasons such as:
It is a vital exporter of pricey competitive goods and an importer of western cargo.
It has a massive and well-trained labor pool that works at low wages so this means that when you create a setup here you can save big on employment cost.
Business-friendly environment,
Transparent legal framework,
Government support,
Active individual investors and business magnates.
So, if you're thinking of setting up WFOE in China and now is definitely the best time to take action. Get in touch with us, Business China, to help you with hassle free China WFOE formation.
China WFOE is a limited liability company. It has an independent management, accounting as well as independent legal responsibilities. When forming or setting up WFOE in China, here are some things that you must keep in consideration:
Registered Capital
It's minimum capital requirement for registration is 99 percent of the business should be removed, aiming at lowering threshold for startups and stimulating FDIs.
Business Scope
You cannot engage in all kinds of business activities. You must operate under the business scope that has been approved by the Chinese authorities.
Rent an office or select a registered address from our package to start your company operations immediately.
At Business China, we provide you with top of the line and full-scale company management services to help you start your operations here as smoothly and as quickly as possible without any hassle.
There are many advantages of a China WFOE formation and registration. WOFE refers to any enterprise that's been set up within Chinese territory, which has 100% capital owned by foreign investor(s). It wouldn't be wrong to say that WFOE formation and setup has been adopted and welcomed in significant industries by foreign investors.


Advantages of a China WFOE Formation and Registration
Self-financing: This means that the operating income is wholly owned and controlled by the investors after taxation, following the relevant tax regulations of China. If the enterprise terminates, it shall make an announcement in time and carry out liquidation according to the legal procedures.
One of the biggest advantages of having a China company registration certificate, is that business owners get to remit all profits from the China company to their parent company outside of China legally and without hassle.
Better protection of intellectual know-how and technology.
Issuance of a Certificate of Origin (CO) in international trade.
Make client invoices under the name of your China Wholly Foreign Owned Enterprise, and collect payments in RMB, while carrying out your business, which is inexecutable under a China RO (Representative Office in China).
Independent management without Chinese participation. The enterprise shall carry out the operation and management activities in accordance with the approved bylaws without interference.
In addition to land, the investment of enterprises is considered to be 100% private to foreign investors. There is also no equity of the Chinese investor. An enterprise can be a partnership by foreign investors or individual proprietorship once you have gone through the company registration process in China.
No need for a Parent company to set up more than 2 years while Rep Office's need at least 2 years.
Enjoy greater efficiency in operations, management, and more scalability.
Full control of human resources;
Ability to carry out worldwide strategies of your parent company or individual shareholders independently.
As per the rules of a WFOE formation and setup, business owners are able to apply for working visa (residence permit) for their own legal personality and employees.
Business China Functions as Your Key to China
The major benefits of establishing a WFOE in China with Business China include, but aren't limited to:


Quick and hassle-free china WFOE formation and registration
No need for registered capital, no real office required,or online registration
Online WFOE formation and setup in 3 easy steps
Fluent English speaking consultants available 24/7, to help you apply for setting up a WFOE in China.
No hidden cost and competitive rates to easy your wholly owned subsidiary expansion into china
Thousands of happy clients and 10 years+ experience



Going through a company registration process in China with Business China means easy access to Chinese markets anywhere, anytime.
China Liability Limited Company (LLC)
Formation of China Partnership Company
Set up a corporation in Guangzhou, Shenzhen, Foshan, Shanghai
Set up China Wholly Foreign Owned Enterprise (WFOE)
Set up Joint Venture (JV) in China
Set up Representative Office (Rep Office) in China
Business China offers so much more than just a WFOE formation and setup!
The following are just some of the professional services that Business China offers our clients apart from the company registration process in China:
China business bank account opening
outsourced accounting and bookkeeping
post-corporate management services
China VAT refund
free company secretary services
Thanks to our in-depth knowledge about WFOE formation and registration and years of experience in the industry, the China WFOE formation and registration process can be completed in four easy steps given below;
Step One. Name pre-registration
Apply for name pre-registration, the documents & certificates to be submitted:
Name Pre-registration Form of China WOFE; (Business China provide)
The legal identification certificate of Chinese and foreign investors;
The project proposal and its approval documents (wholly foreign-owned enterprises shall submit the application report and the written reply of local county government); (Business China provide)
A power of attorney; (Business China provide)
Approval documents of relevant departments shall be submitted if the business project is under the state limitation on the utilization of foreign capital or for special examination and approval of the industry; (Business China provide)
Other documents and certificates as required according to relevant laws, regulations, rules & policies.
Step Two. Business licenses application

Registration Application of Foreign-invested Enterprises signed by the Legal Representative;
Contracts, Articles of Association & approval documents and certificates of the approval authorities; (Business China provide)
The Identification Certificate of the Investor (the Chinese side shall affix the seal of the issuing authority);
The Credit Certificate of the Investor (if applicable);
The Appointment Statement of Legal Representative, Director(s), Manager(s) and Supervisor(s); (Business China provide)
The identity card or passport of Legal Representative, Director(s), Manager(s) and Supervisor(s);
Office lease contracts; we will provide these if using our registered address; (Business China provide)
Name Registration Application Form and Name Pre-registrational Notice (original); (Business China provide)
A power of attorney; (Business China provide)
Other documents and certificates as required according to relevant laws, regulations, rules & policies.
Step Three. Documents required for other industries
Trade Industry: Import and Export Certificate
Food Industry (health food): Food Business License
Pharmaceutical Industry:License for Pharmaceutical Trading
Cosmetics Industry:Cosmetic Hygiene License/Cosmetics Business License
Medical device Industry: Medical Device Operating Permit/Medical Device Production License/Class I, Class II, Class III Medical Device Registration, Filing, etc
Step Four. Apply for enterprise seal and seal record to protect the legitimate rights of WFOE.
Any Documents Need to be Certified?
When overseas company/individual sets up a foreign investment company in mainland China, the Chinese government will require the overseas company/individuals to apply for the notary of their identification certificate because the Chinese government bureau cannot check the identification details of offshore companies/individuals.
The notarized certification process should complete in the home country of the parent company or individual passport issuing state (if the passport issuing country does not have the Chinese Embassy or Consulate, one can go to the nearby country).
It requires that the Foreign Ministry of the host country and the Chinese Embassy
must approve foreign investors and overseas companies' Chinese investment.
Overseas investors need to attest and notarize the following documents:
Certificate of Company Incorporation
Company Registration Certificate
List of Directors and Shareholders
Articles of Association of the Company
Certificate of Legal Representative of the Investors
Records of the board of directors signed by the legal representative
Other company documents
*Overseas individuals generally require notarized passport file in duplicate
Note:
*Hong Kong companies to establish foreign companies in China are required to apply for the notarization of Chinese Notary authorized by the Ministry of Justice ((will be provided by Business China).
*Foreign companies/individuals require the notarization of the Chinese Embassy, which must be completed by themselves.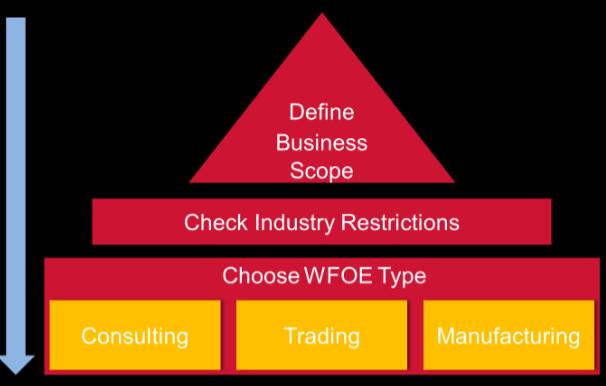 To start your China enterprise with a professional team in China.
Our service process: Customize Service Package-----Start WFOE Registration Services---Courier Company File to You by International Express.
We create an easy route for business incorporation in China.
We also offer post-incorporation Services.
We understand just how valuable your time is.
At Business China, we are committed to returning your email or phone call within 24 hours GUARANTEED.
A foreign investor is not required to come to China physically to start the incorporation process.
Setting up as an Individual
A personal bank statement letter, only stating no lousy record (in some cases, no need to provide)
Choose a China name and English name for your China WFOE
Choose the location for your company in China
Setting up as a Hong Kong Company
Notarized copy of Certificate of Incorporation /Business Registration Certificate/NC1 (or AR1)
Passport copy of legal representative and supervisor of China WFOE
Hong Kong Company Business Account Bank Statement (in some cases, no need to provide)
We can Establish and Notarize the Hong Kong Company for you in 7-8 working days


Setting up as a Foreign Company
Certificate of Incorporation /Business Registration Certificate
Passport copy of legal representative and supervisor of China WFOE
Foreign Company Business Account Bank Statement (in some cases, no need to provide)
All Documents need to be attested and notarized by the China Embassy