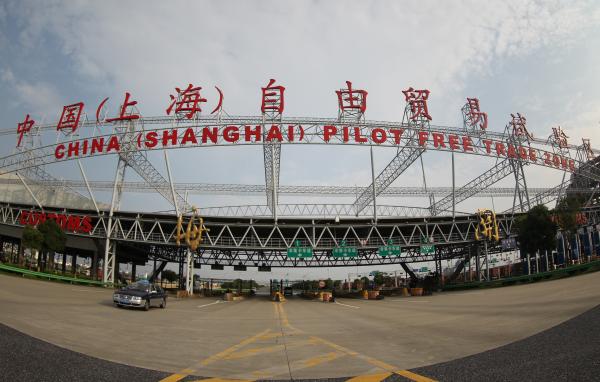 Shanghai Free Trade Zone is the first Hong-Kong Like FTZ in China. It covers an area of 28.79 square kilometers. Construction of Shanghai FTZ test area is a major move to comply with the new trend of global economic and trade development and to implement a more proactive and open strategy. In December 28, 2014, the Standing Committee of the National People's Congress authorized the State Council to expand the China (Shanghai) free trade test area to 120.72 square kilometers.


China (Shanghai) pilot free trade zone is a regional free trade zone established in Shanghai by the Chinese government, which is located in pudong and belongs to the category of China's free trade zone. On September 29, 2013, China formally established (Shanghai) free trade zone with an area of 28.78 square kilometers, covering four special customs supervision areas, including Shanghai waigaoqiao free trade zone, the waigaoqiao bonded logistics zone, yangshan bonded port zone and Shanghai pudong airport, a comprehensive bonded zone. On December 28, 2014, the standing committee of the National People's Congress authorized the state council to expand the area of the China (Shanghai) free trade zone to 120.72 square kilometers.


The expansion area includes lujiazui financial zone, jinqiao development zone and zhangjiang high-tech zone. Among them, the lujiazui financial zone, jianyang road, pudong south road, longyang road, jinxiu road, luo shan road to the east, central circle to the south, huangpu river to the west and huangpu river to the north, totally covers 34.26 square kilometers. Jinqiao development zone with a total area of 20.48 square kilometers, east to outer ring green belt, south to jinxiu east road, west to yanggao road, north to the huge peak road. While Zhangjiang high-tech zone, 37.2 square kilometers, east to the outer ring line, shenjiang road, south to the outer ring line, west to luo mountain road and north to longdong avenue.


Shanghai FTZ Encourages:

Medical Apparatus and Instruments




Shanghai FTZ Launched

FTZ's Attraction
The development orientation of each area in Shanghai free trade pilot zone
Comprehensive bonded zones: according to industrial economy development goals of the free trade zone, relying on its development foundation, the original free trade zone will accelerate the development of five industrial clusters, including  international trade, financial services, shipping services, professional services and high-end manufacturing, focusing on headquarters economy, platform economy, "four new" economy those three major business forms. Based on regional first-mover advantages, Waigaoqiao free trade zone was made to a comprehensive functional concentrated area, which gives priority to the function in international trade services, financial services and professional services with multivariate integration in business, commerce, culture and leisure functions. The waigaoqiao bonded logistics park, relying on waigaoqiao port and waigaoqiao free trade zone, has become an international logistics service area. The yangshan bonded port area makes full use of the unique deep-water and waterway conditions of yangshan deep-water port, and the linkage of lingang area (including nanhui new town), relying on the policy superposition advantages of the pilot free trade zone and international shipping development zone, making it a globally competitive functional area both in international shipping service and offshore service. Comprehensive free trade zone in pudong airport which fully relies on its status of Asia Pacific aviation hub, exploiting advantages of international passenger flow, business flow, logistics and linkage development with the surrounding international tourist resort areas, strengthening the functions of international air service, and expanding the functions of high-end commerce and trade simultaneously, is built into a modern trade zone with global competitiveness and attractiveness.
Lujiazui financial area, which is the core area of Shanghai international financial center, the high-end service area of Shanghai international shipping center and the modern trade zone of Shanghai international trade center. A financial system which is connected with common international rules and is adapted to the development of modern service industry, including the headquarters economy, is to be explored and established here. What's more, We will continue to promote investment facilitation, trade liberalization, financial internationalization and regulatory innovation, and accelerate the formation of a more international, market-based and law-based business environment. Lujiazui financial area also contains the pre-expo beach area;
The expo section is the focal region of Shanghai's new development, in which a gathering zone including the headquarters economy, shipping finance, cultural and sports tourism, high-end service industry is under the building.
Jinqiao development zone, which is the key functional area of advanced manufacturing industry in Shanghai, the agglomeration area of producer services, leading area of strategic emerging industries and ecological industry demonstration zone. The key point here is to innovate the government management and financial system, build the business environment for trade facilitation and cultivate the strategic emerging industry which can represent the state to participate in international competition, constantly enhancing the vitality of economic development and the innovation ability.
Zhang jiang high-tech district is the core base for the implementation of the innovation-oriented country strategy in Shanghai, which is to push the construction of Shanghai free trade zone and zhangjiang national independent innovation demonstration area into a deep linkage, improving innovation power in the zhangjiang park, focusing on the exploration and innovation of national science center, "four new" economy, public service platform of science and technology innovation, finance, talent highland and comprehensive environment optimization.
Advantages of the Shanghai free trade zone
For business in enterprises and institutions, some of which can be done in the free trade zones (ftzs), some can be done firstly in ftzs and some can be done entirely in ftzs. Specifically, the advantages of the area are mainly reflected in the following five aspects:
One is negative list management. Currently only in the free trade zone, out of negative list is still according to the agreement of both foreign and internal management, which is to say, a foreign capital enterprise and project registration records management, while in other places, it takes for examination and approval of the pipeline, including contract, articles of association, etc.
Second, the service sector and manufacturing sector are open. Since the free trade area was listed, there have been 54 open measures in the service sector and in some manufacturing sectors. These opening measures are currently only piloted in the district.
Third, the record management of foreign investment. Typically it takes 3-6 months for NDRC, commerce committee, foreign exchange and other departments to examine and approve foreign investment, now project below $300 million in free trade zone can be completed in 3 working days for the record, the speed of capital putting overseas was greatly accelerated.
Fourth, the new trade facilitation model. Special customs surveillance sectors of free trade zone pioneers in exploring "one line open, second line under safe and efficient control and free zone" pattern in the country, forming a series of institutional arrangements in trade facilitation including shipping customs clearance, inspection and quarantine, selective tax, and promoting the rapid development of a series of new business, including the state of a single window of international trade, classification regulation on goods states, etc.
Fifth, financial innovation. Financial liberalization and innovation is an important part of the reform of the free trade zone. At present, the accounting business based on the free trade account and foreign currency financing are only piloted in the free trade zones. Although businesses which are welcomed by the enterprises such as cross-border renminbi two-way pool and foreign exchange funds centralized operation management has been replicated across the country, it is more convenient inside zones than outside.